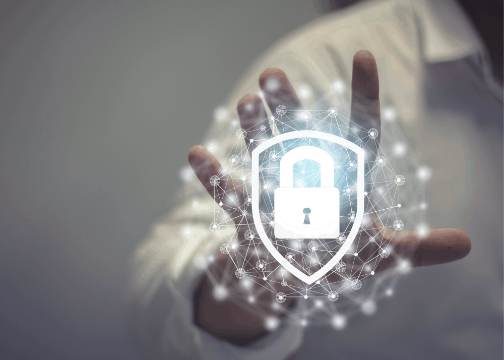 Safeguarding your privacy is our top priority.
Digital technology has made all our lives easier. One place that's evident is in the financial arena, as consumers can save time and find added convenience by banking online. But the same technology is also exploited by identity thieves and scammers for financial gain. At Pike National Bank, we work tirelessly to assure that your privacy is safeguarded and your banking experience is safe and secure.
Online Security
Our Online Banking technology is provided by PNB Online Banking, a product of Jack Henry and Associates.
Security for the PNB Online Banking system consists of multi-level controls throughout the product and the PNB Online Banking Data Center.
The PNB Online Banking Data Center operates in a physically secure, controlled access environment. Access to the PNB Online Banking Data Center offices is controlled and logged by electronic access systems. Similarly, the hardware and software operations at the PNB Online Banking Data Center are located in a secure, access-controlled computer room.
This product requires customers to use a secure browser, incorporating Secure Socket Layer (SSL) encryption to establish a connection to the log in screen. The system requires 128-bit encryption.
Top 10 Security Errors
10. Opening any attachment that you receive by email
9. Clicking on shortened links without thinking
8. Using Public Wi-Fi without taking precautions
7. Ignoring security updates
6. Using the same passwords on different accounts
5. Thinking that an antivirus is not important
4. Thinking that backing up files is a waste of time
3. Not paying attention to your browser when it says the connection is not secure
2. Giving out information on social media
1. Downloading applications from anywhere
Log-in Protection
We will assign each customer a private password generated by Pike National Bank for their initial log-in to the online system. In order for each customer to have an entirely private password, the system will require each customer to change the password after their first log-in. PNB Online Banking passwords are alpha-numeric and must be 8 to 14 characters in length. We encourage our customers to select passwords that are not easy to guess or easily recognized identifications.
Password Security System
It is very important that ONLY YOU know your username and password. This is the only way your account may be accessed. Three (3) unsuccessful attempts will lock the user out of their account. If that happens, they must call Pike National Bank at 601- 684-7575.
Account Numbers Not Visible
Your account numbers are not visible online and can not be found anywhere on Pike National Bank's Online Banking. A "Pseudo Name" (nickname) is used in place of the real numbers to maximize the security of your Online Banking experience. If you rename your accounts, we recommend you do not change it to your actual account number.
Automatic Logoff
If you are logged on but do not perform an activity for 10 minutes, you will not be able to proceed until you "re-log" on to the system.
Additional Security Measures
In addition to the above safeguards, we have sophisticated firewalls and an authentication process to ensure that only authorized individuals are allowed to enter our system.
Daily Monitoring
We are constantly upgrading our system to include the most recent Internet security features. Suspect reports are generated daily for monitoring purposes to help ensure that no one is attempting to log in to your account that shouldn't have access.
Email Solicitation
Pike National Bank does not solicit information (Social Security number, account numbers, credit card numbers, passwords, etc.) via email. If you receive an email requesting confidential information from someone claiming to represent PNB, do not respond to it. Please call 601-684-7575 to report any solicitation of this kind that you receive.
Your Role in Security
While we work to protect your banking privacy, you also play an important role in protecting your accounts and personal information. Please take the following steps:

Choose a good password. You should carefully select a password that is hard to guess and never use a word that can be found in the dictionary.

Memorize your password. Even the best one is worthless if it's written on a note and is easily found.

Do not share your PNB Online Banking Username and Password with anyone else. This sign-on information is designed to protect the privacy of your banking information, but it will only work if you keep it to yourself. If you think your Username or Password has been compromised, change it immediately and contact us at (601) 684-7575 or use the "Contact Us" tab to send a high secure message.

Change your PNB Online Banking username and password as often as you wish. (We recommend changing your password at least every 90 days.)

Once you have finished your session, sign off before visiting other websites. To assure the security of your account, be sure to click the 'LOG OFF' button, clear your browser's cache to erase any stored information, and close your browser window.

If anyone else has access to your computer, clear your browser's cache in order to eliminate copies of web pages that have been stored on your hard drive.

As always, if you notice any suspicious or unusual activity related to any of your accounts, please contact us at 601-684-7575.

Don't leave your computer unattended during a PNB Online Banking session - click on 'LOG OFF' to end your session.

Avoid using public access computers to conduct Online Banking.

When sending any application information online, this site automatically switches to a secure mode. This is evident by the "https" that will appear in the URL as opposed to "http." If you are using Internet Explorer, you will see a locked padlock at the bottom of your screen when you are in a secure mode and an unlocked padlock when you are in an unsecure mode.
System Security
Our recommendations for a secure system:
Make sure your Operating System is set to automatically update.

Run a current version of OS. Microsoft XP is not a current OS.

Turn Windows firewall on or use the one with your anti-virus software.

Do not run more than one anti-virus software on your computer at the same time.

Have a good anti-virus software and keep it up to date.

Never let your browser automatically save passwords.

Think about running a separate anti malware software.

Use safe browser settings. You can Google how to set safe browser setting for whichever browser you prefer to use.

Set up separate user IDs and passwords when multiple users are using the same computer.

Never use the same password for multiple sites.

When shopping online make sure the webpage your visiting is SSL (little lock icon in URL).

Change your passwords regularly and never use something easy to guess like your child's name.

Use a program like FileHippo to check and download any updates needed besides your operating system and anti-virus software.

Be careful where you go on the Internet and do not click on popups without reading them first.

Never share your password with anyone.

Do not leave the Bluetooth option on that allows other devices to find your device.

Be very careful when using Wi-Fi networks that you do not control.

Important Note
While we continue to do everything possible to ensure the security of our system, Pike National Bank cannot be responsible for customer errors or negligent use of PNB Online Banking and will not cover losses due to:
Input errors or misuse of Pike National Bank's Online Banking

Negligent handling or sharing of Username and Passwords leading to unauthorized access to accounts

Leaving a personal computer unattended during an online session

Failure to report known incidents of unauthorized account access within 2 business days.
Email Communications
Please remember, standard email can be intercepted, and you should be cautious when sending email with personal information. If your information is very sensitive, or includes personal or confidential information-such as your bank account or Social Security number, please contact us by postal mail or telephone. Please see your Frequently Asked Questions section for instructions on how to send a secure message to Pike National Bank.
Browser Recommendations
To ensure optimal security and access to all features in our online banking product, we recommend using one of the following browsers:
Windows Users
Internet Explorer
Mozilla Firefox
Macintosh Users
Third-Party Services
As an additional service, Pike National Bank may occasionally provide links to web pages provided by third parties. When you access those pages, you are leaving the bank's secure website. Some of those pages may not be secure. Each of those web sites operates under its own privacy policy. You are solely responsible for reviewing the privacy policy on each website and providing only that information you believe is appropriate to share with the provider of that website.
Our site may include promotional materials via links to web pages provided by third parties from whom you may purchase certain goods or services. You should understand that we do not operate or control the products or services. The party providing each product or service is responsible for all aspects of order processing, fulfillment, billing, and customer service. We are not a party to the transactions entered into between you and those third parties.
You agree that your use of any service is at your sole risk and is without warranties of any kind by us, expressed, implied, or otherwise including warranties of title, fitness or purpose, merchantability or non infringement. Under no circumstances are we liable for any damages arising from the transactions between you and our associates or for any information appearing on associates sites or any other site linked to our website.
Notice
This site may be utilized for authorized purposes only. Unauthorized access or use is not permitted and constitutes a crime punishable by law. Activity on this site is monitored for security purposes.
Pike National Bank is a full-service financial institution serving Lincoln, Pike and Walthall counties in Southwest Mississippi.