A place of your own. A place to call home.
At Pike National Bank, we are pleased and proud to help our neighbors make their next big move. Whether you are buying your dream home, building one that suits your own personal style, sprucing up your current residence, or looking for mortgage refinancing, our friendly lending team can help you obtain affordable financing that fits your needs, with fixed or adjustable rates.
Pike Home Loan Products
Fully Amortizing Mortgage: Regular monthly payments of principal and interest pay off the loan by the maturity date. 

Balloon Mortgage: Borrowers enjoy a low monthly payment for an initial period. After that period, the balance must be paid by the borrower or the loan refinanced. The balance payable at the end of the loan term is called a "balloon payment."

Construction Loan: A short-term loan covering the cost of labor and materials during construction of a new home.

Home Equity Line of Credit (HELOC): The equity you have built up in your home can help provide you with access to a low-cost loan fund that you can use for pretty much any purpose. The Annual Percentage Rate (APR) may change monthly as it is tied to the Wall Street Journal Prime Rate.

Home Improvement Loan: This is an installment loan secured by a first or second mortgage on a borrower's home. The funds are often used for additions to the home, fence and yard work, general repairs, or for a swimming pool or tennis court.
Debt Consolidation Mortgage: Using the equity in your home to consolidate other loans into one manageable monthly payment with a lower interest rate.  
Pike National Bank Advantages
Loan decisions based on entire credit history, not credit score alone

All loans maintained and serviced in house

Face-to-face contact with local lenders

We strive to close your loan within 15-30 business days

Can arrange for automatic loan payments from your Pike National Bank checking account

Mobile home financing

Long Term, Fixed Rate Mortgage:
Long-term, fixed-rate mortgages up to 30 years

Potential lower down payment
Items Requested During the Loan Process:
Valid state-issued identification

Original copy of the two most recent pay stubs

Copy of previous year's W-2 forms

Copy of previous year's tax return

If self-employed, copies of the two most recent personal tax returns; business returns may also be required

$30 credit bureau fee per person (joint applicants $60)
* Applicable to PNB Mortgage Products only
If Purchasing, You Will Also Need:
Sales contract

Purchase agreement

Copy of legal description
If Refinancing, You Will Also Need:
Copy of warranty deed
Copy of your current hazard and/or flood insurance policy
Previous year's property taxes
Meet Our Team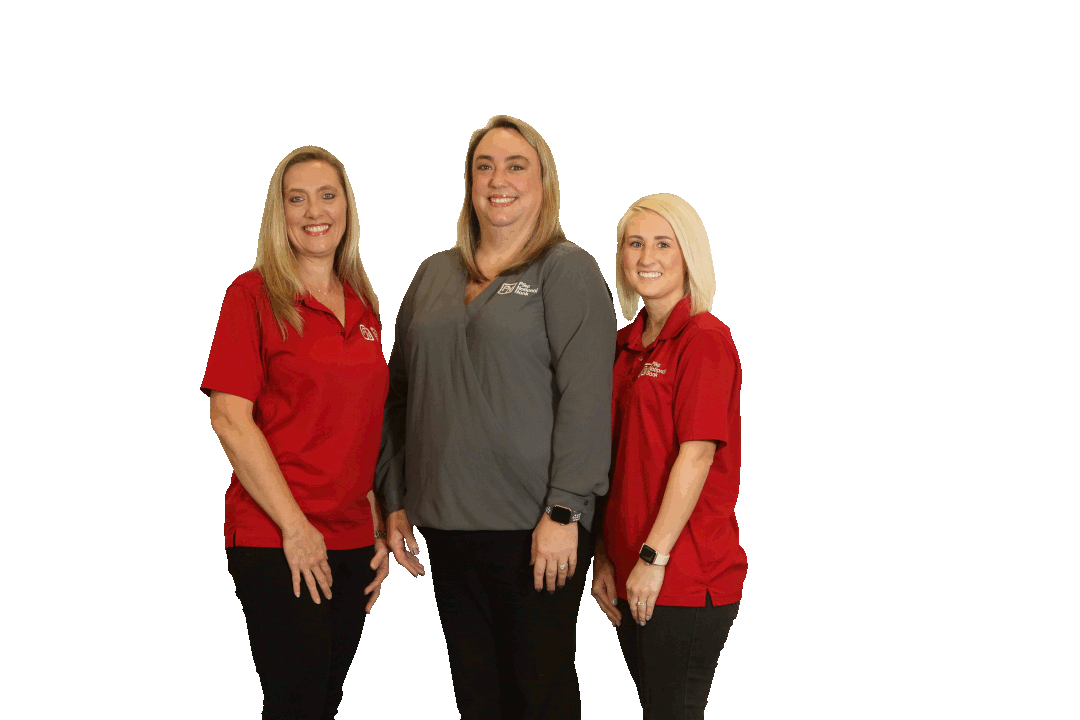 L to R: Menessa Cooksey, Nicole Van Norman, Kayla Hunter
Pike National Bank's mortgage lending team is friendly, helpful, and experienced. Our Mortgage Loan Originators are eager to guide you through the loan process.
Menessa Cooksey: 601-249-4674 (MLO #1076650)

Nicole Van Norman: 601-823-5566 (MLO#1930516)

Kayla Hunter: 601-684-7575, ext. 1268 (MLO #1452793)
Pike National Bank is a full-service financial institution serving Lincoln, Pike and Walthall counties in Southwest Mississippi.